Group Entrant Profiles - Using Them To Your Advantage
With MusicFestivalSuite.com only offering Teacher and Group Entrant Profiles, one may need to get creative to ensure Administration of a school is involved in the Music Festival activities as well. This is also a really good method of advocacy in music education to build Administrative staff into your festival management.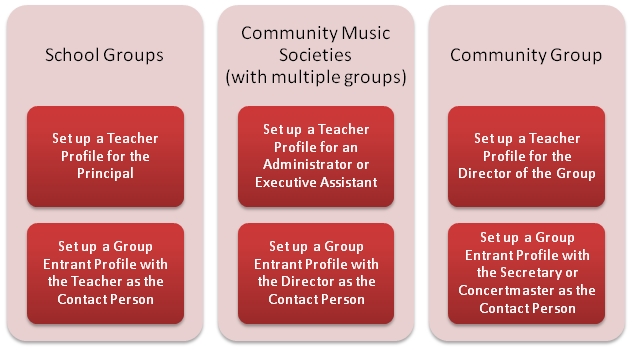 For any of the suggestions shown, the best way to do this would be as follows;
Create a Teacher Profile for the Principal (School Groups), Executive Assistant (Community Music Societies), or Director (Community Groups).

Create an Entrant Profile, choosing the Group Entrant option, and identify the Teacher (School Groups), Director (Community Music Societies), or Secretary or Concertmaster (Community Groups) in the "Contact Person" field of the form.



​Setting the relationships up in this fashion allows the Contact Person for each Group to input registrations without involving the Administrator by logging in as the "Group Entrant", yet making payment simple and straightforward for the Administrator by having them log in when payment time comes as the "Teacher". Alternatively, if there is only one individual in the organization who makes the registrations, that person can also complete registrations using the "Teacher" Profile.